AER Srl. from Moldova - Part Two
"Out of production"
Airplanes, ships, space, military vehicles in different scales
---
Click on the pictures
---
---
Warships - scale 1/144 (Resin)
Kit 14401 - Aviso 'Spike' armored boat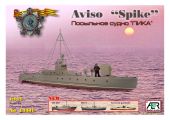 Aviso 'Spike'
The production of a series of small armored river patrol boats began in 1903. The Russian defence department envisioned a floating defence on the river Amur. Ten Aviso river patrol boats were ordered, nine of which were transported by rail to the river Amur. One was transported to the Baltic. The last of these boats were decommissioned in 1954. Displacement: 23.5 metric tons, dual engine output: 200 h.p., speed: 15 knots, armament: 1x 76mm gun and 2x machine gun.
---
Kit 14402 - Submarine hunter MO-4 - and 4 pictures of finished model

Submarine hunter
The MO-4 submarine hunter was a class of small ships produced before and during World War II for the Soviet navy. Their primary function originally was anti-submarine warfare. During the war they carried out many additional roles from supporting landing operations to escorting convoys. Over 350 ships were built. The resin model of this MO-4 patrol craft is a well detailed, high quality product. Its length is 20cm. The kit includes 5 crew figurines and a wooden stand.
---
Kit 14403 - River armored boat BKA-1125 and 3 pictures of finished model

River armored boat BKA-1125
Prior to the beginning of the second world war, three projects were started to manufacture armored boats. The two-gun BK-1124, the one-gun 1125 and the S-40. By June 1941 some 85 boats had been built and 68 more were commissioned. The boats were used on waterways in the immediate proximity of shores occupied by the enemy. The compact size of the boats made it possible to transport them on railway cars and moving them from one battlefield to another. The additional installation of a 'Katiusha' rocket launcher on the boats increased the effectiveness of the boats considerably. The boats saw action on the Volga, the Azov, the Danube, the Dnepr, on the Black Sea and with the Baltic Sea fleets. Because of their versatility and damage tolerance, combined with being armed with T-34 tank turrets, these armored boats were called 'river tanks'.
---
Kit 14404 - Soviet motor torpedo boat 'Komsomolets' WW-II. 2 pictures of finished model.

Soviet motor torpedo boat 'Komsomolets' WW-II
These ships were built from voluntary contributions to the war budget by the Russian people. These 7 men crew vessels had a duralumin hull with a length of 18.7m, a width of 3.4m, a top speed of 48 knots. They were armed with two 7,62mm machine-gun mounts, a double heavy-caliber DTK machine gun mount and two 450mm torpedo tubes. The deck house was armored.
---
Kit 14405 - Soviet WW-II small submarine hunter OD-200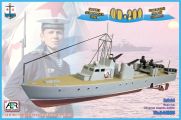 Submarine hunter OD-200
In first years of WW-II the wooden hull of the type D-3 torpedo motorboat was used to construct the small submarine hunter OD-200. In total 334 small submarine hunters such as MO-2, MO-4 and OD-200 were built. They were used to carry landing parties, to carry out patrol duties, to escort maritime transports and submarines and to knock out enemy fire positions along the shore line. After WW-II a number of boats was transfered to the Belgium and Bulgarian navies.
---
Kit 14406 - Soviet torpedo motorboat G-5 WW-II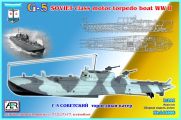 Soviet torpedo motorboat G-5 WW-II
The torpedo motorboat G-5, of which 200 were built, was widely used during WW-II.
---
Kit 14407 - The Soviet 100mm buoyant battery DB
100mm buoyant battery DB
The first floating batteries DB type were built in 1942 at the Volga military facilities. Two joined landing motor-boats supported the gun platform on which a 100mm naval gun turret was positioned. The platforms could be dismanteled quickly to be transported on railway cars. In total 11 floating batteries were constructed.
---
Kit 14408 - Lewis Nixon's torpedo boat (Great War - WW-II)

Lewis Nixon's torpedo boat (Great War - WW-II)
In 1904 Czar Nicolas ordered 10 torpedo boats for the Russian navy to be built in Sevastopol by and under supervision of American shipbuilder Lewis Nixon. The vessels were equipped with high-power arms and with the best gasoline engines of the time. The vessels featured a shallow draft. In three months 9 of torpedo boats have been supplied to in the taken apart kind where have been built. One vessel sailing under the US flag crossed the Atlantic safely. The last surviving boat served beyond the year 1950 and was used as a transport vessel.
---
Kit 144010 - German submarine hunter of WW-II, a modified and armed coastal fishing vessel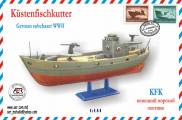 ---
Other ships in scale 1/144 (Resin)
Kit 144009 - Alabama 1819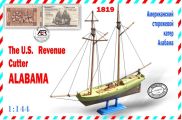 Kit 14409 - 'Alabama' 1819 resin ships in scale 1:144
Combating pirates required small, fast, lightly armed craft, similar to the ones used by the pirates. William Doughty, naval constructor, designed three new classes of cutters. They carried one gun on a pivot mount and were rigged as a topsail schooner. Two cutters were built according to this design and were commissioned in 1819. Last mention of these vessels was in 1834.
---
War ships - Scale 1/350 (Resin)
Kit 35001 - 'Nord' Soviet armored hydrografoc schooner WW-II
---
War ships - Scale 1/400 (Resin)
Kit 40002 - 'Mine' minesweeper WW-II
Kit 40003 - guard ship - and 3 pictures of finished model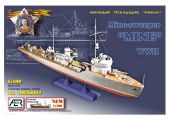 Mine sweeper 'Mine'
The first mine-sweeper constructed in the USSR was launched in 1934. Equiped with trawls and armed with a 100mm gun, anti aircraft guns and depth charges, these 450-ton ships with a diesel installation of 300 h.p. reached a speed of 21 knots. With the war progressing, so did the tasks for which the vessels were used. Besides mine sweeping, they were used for mine laying, anti-submarine war fare, escort duty, evacuation of troops and civilians, for landing operations behind enemy lines and for artillery support. These ships saw action on all fronts of the WW-II and well beyond. It is estimated that some 20 thousand mines were neutralized by these ships in the years follwinbg the end of WW-II. Length: 62m, width: 7m, armament: one 100mm naval gun, one 45mm gun, three 37mm guns and 40 mines.
Guard sShip
At the beginning of WW-II there were some 47 fishing trawlers in the Northern fleet. Their displacement was about 1000 metric tons and their maximum speed was 10 knots. Half of them were converted into mine sweepers and guard ships. The crew would consist of 3 military personnel: the captain, a signalman and a weapons expert. The remaining crew was formed by fishermen. These ships [length: 53.4m, width: 9m, armament: two 45mm gun or two 76mm guns and 7,62mm MGs] carried out long range patrols in any weather, escort assignments, fire support for marines' landing parties, troop and supply transports, missions to locate minefields and sea rescue duties. When in 1943 new combat vessels became available for the northern fleet, these trawlers once again returned to fishing

---
Military vehicles in scale 1/35 (Plastic)
AE35001 - T-18 tank
AE35002 - T-38 aphibian tank
AE35004 - T-20 Komsomolets
AE35005 - ASU-57 airborne SPG
AE35007 - BA-64b light armoured car
AE35008 - Gaz-67 jeep
---
Military airplanes in scale 1/72 (plastic)
AE72001 - Lag 3 Fighter
AE72002 - I-153 'Chaika'
AE72003 - MI4 helicopter
AE72020 - R-5 biplane
AE72025 - G-11 assault glider
AE72026 - G-7 assault glider
AE72031 - M1-M4 anti submarine helicopter
---
Military airplanes in scale 1/72 (Resin)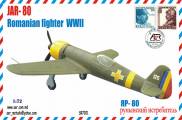 ---
Military airplanes in scale 1/288 (Resin)
AR28801 - Antonov AN-12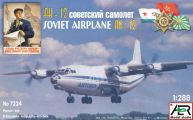 ---
AR28802 - Soviet transport helicopter MI-26 with BTR-80
---
Space rockets in scale 1/144 (plastic)
AE14401 - 'Vostok Carrier Rocket
AE14402 - 'Sputnik' Carrier Rocket
---
Submarine in scale 1/400 (Plastic)
AE4001 - 'Stalin' submarine, class D, L, M, S and Sch - all in one box
---
Historical wooden ships - scale 1/72 (Resin)
---
---
---
Back to part One

---
Email to HenkofHolland:
Note:
This website is an extension of my modeling hobby and serves to inform only. It is NOT possible to order merchandise directly from me.
I do not own a (web-)shop. You will find some reliable vendors in the "links" page.

E-mail to HenkofHolland
Note: To become a valid e-mail address, replace in email address (at) with @
---
Valid HTML 4.0 Transitional
---
---