Russian BT Tanks and their variants
---
Click on the pictures
---



---
Russian BT Tanks
Source: "Soviet Tanks and Combat Vehicles of World War Two" - (Steven J.Zalogo and James Grandsen)
The companion of the T26 was the BT series of "fast" tanks. The T26 was employed primarily by tank units assigned to the support of infantry, while the BT was assigned to independent tank brigades and in support of cavalry formations. The BT series was based on the American Christie M1930 convertible tank. Convertible tanks were a fad of the 1930's prompted by the lack of reliable tank tracks. Tracks had a short life span and were a primary source of the mechanical breakdowns which afflicted early tank units. The convertible tank skirted the problem by making it possible to remove the tracks and run the tank on its roadwheels. This was accomplished by providing a sepcial chain drive to power the rear road wheels while in the wheeled mode. In this fasion, the tanks could be moved at high speed over roads with no wear on their tracks and the tank converted to provide cross-country mobility once the battlefield was reached; it took about 30 minutes to change a Christie from track to wheel mode.
The two M1930 p[rototypes arrived in the USSR early in 1931, having been shipped from the USA under the disguise of agricultural tractors. They were turned over to a new design team at the Kharkov Locomotive Works (Komintern),(KhPZ nr.183) which was already preparing for production on the basis of engineering drawings already sent by Christie. On 23 May 1931, the RVS accepted the new tank for RKKA use as the BT-2 although not even a single prototype had been completed. The BT-1 designation was applied to the American prototypes. The Christie prototypes had arrived without turrets, so the main design change involved the development of turrets and armament combinations. The first three BT-2 prototypes were completed without armament in October and took part in the Moscow parade on 7 November 1931. After trials, KhPZ began quantity production of the BT-2 in 1932, manufacturing 396 tanks that year. There were two variants of the BT-2 Model 1932, one armed with a 37mm Model 1930 gun and the other armed with machine-guns. Both vehicles had a DT machine-gun mounted in a ball socket to the right of the mantlet, so the machine-gun armed variant had a total of three DT machine-guns. The machine-gun variant was not well received and subsequent production turned entirely to gun-armed types.
---
Combat History
BT-5's were first used in action during the Spanish Civil War in 1936 when they fought on the Republican side against the Nationalists. BT's made up part of the large 500 strike tank force under General Zhukov which took part in the influential battle of Nomonhan against the Japanese over the disputed area between Mongolia and Manchuria in August 1939. They participated in the carve up of Poland (in league with the Germans), and the invasion of Finland the same year.
Used to help try and stem the German advance into the USSR during the German onslaught in 1941, many were dug in and used as fixed pill boxes when they ran out of fuel or broke down and couldn't be repaired due to the poor logistics of the Red Army at the time. Whilst they only had thin armour their gun was a very potent weapon when they were first built.
---
Information from Alexander Kolbasov
There exists one incorrect description from different sources, both the Russian and foreign. According to it, there is a link from BT to BT-5 with line logic of numbers:

BT-1 - copy of Kristie
BT-2 - first Russian copy of Kristie
BT-3 - developing of BT-2
BT-4 - BT-3 Twin Turret
BT-5 - developing of BT-2 with 45 mm gun and new turret
BT-6 - middle variant between BT-5 and BT-7
BT-7 - .....
Etc. with modifications.

This story was born by linear logic with minimum information from original sources and it is absolutely incorrect! Unfortunately, linear logic is not for us (Russians).

There was the official Government Plan of Experimental Designing Works, 1933, Works Program of New Projecting Section of designing bureau T-2K (located on Kharkov's Stem-Locomotive Factory), 1933, Jan. 27, signed by the Leader of T-2K program V.V. Fokin. Many Russian sources have reference on this program.

The most serious sources with serious historical discovering should be noted:
-Maxim Kolomiets "Series of BT light tanks. Flying tank of 1930th", Moscow, "EKSMO, 2007
-Magazine "Armorcollection", 1996, N1(4), under redaction of greatest Russian military historian Baryatinskiy M.B.

T-2K Programm is long and I think to translate it fully makes little sense. There are different requests of many experimental samples, many of them were not built or had no visual difference with serial samples, or were pre-serial samples, so, I'll translate only the essence of the most interesting items.

According it must be done next:
BT-3 - release to serial production of drawings with metrical sizes of threads, but corresponding to a all features of BT-2 manufacturing (remember that BT-2 was as initial Christie variant with American sizes. They use inches!)

BT-4 - was a factory prototype by "Kharkov Factory"

BT-5 with different engines and one project with 76 mm gun.

BT-6 - assembly drawings of vehicle, arranged as BT-5 with 45 mm gun , with fully welded body, it's segments and units, with weld seam from non-carbonized side of armor, according to BT-experiments in 1932, summer. Production of working drawings to manufacturing of experimental samples.

"BT" - only drawings project with minimal weight, maximal speeds especially on track-links drive with heaviest weapon. As result, we can see, that BT-3 is the same as the BT-2, but with metrical treads.

BT-6 is BT-5 with fully welded body, cheaper carbonized armor against molybdenum.

Concerning BT-5 - it was planned as a transient vehicle to a BT-3, because last one planned to have only metrical treads, but BT-5 had both metrical and inches. (No linear logic)

Some sources have information about BT-6, that one sample was almost ready, but was stopped, because the government issued an order with main target to improve quality of BT-5. Reject rate of last one reached approx 50%!!!

In BT-6 section you will find photos of BT-6, this info is confirmed! According to the designing program listed above, the BT-6 was geometrically equal to BT-5, but with difference in driver's hatch.

BT-SV and BT-SV II "Turtle"
In section BT-SV there are photos. You'll find that construction on the top is not an armor, metal sheets are very thin
-on the front photos you will find standard turret of BT-SV inside this construction. This is not an APC. This is just a construction for transportation, as described in different sources. Why this is, nobody knows. It looks like a technology money-eater. They were in use in large quantity during the 1930th in the USSR.

Alexander Kolbasov - (Rusline LMS Leading Engineer)
---
"Christi T-3"
The photes are made by Narayan Senupta, on Aberdeen Proving Ground - www.peachmountain.com/5Star

The T3 Tornado and other Christi tanks are the ancestors to the famous Soviet BT series of tanks and thus also influenced the design of the T-34 tank. This model is the M1931 (model 1931) and was also referred to as the T3. This tank was derived from the earlier M1928. The M1931 was 2 ton's heavier, better armoured and mounted a turret sporting a 37mm gun.
The US bought 3 of the Christi T3 tanks and the Soviets bought 2. The US didn't proceed further with this design, but the Soviets did basing the BT tanks almost directly on the Christi.

For more info visit:
Web-site "www.peachmountain.com/5Star":

---
Kit UM403 - Christie Tank T3 - 1931/1940 - model built by Zhenmin Han

Model built by Juraj Korpa
---
"Christi M1940 / BT-2 hull without turret - Model built by Vladimir Yakubov (www.RussianNavy.net) - (converted UM BT-2 model)"
---
"BT-1 Variants"
1931 Soviet BT-1 Light Tank Two m.g.
1932 Soviet BT-1 Light Tank Two m.g.
---
"BT-2 Variants"
1931 Soviet BT-2 Light Tank gun + m.g.
1931 Soviet BT-2 Light Tank gun + non-coaxial m.g.
1931 Soviet BT-2 Light Tank three m.g.
1931 Soviet BT-2 Light Tank Two m.g. + non-coaxial m.g.
---
1932 Soviet BT-2 Light Tank gun + m.g.
1932 Soviet BT-2-1 Light Tank Two m.g. + non-coaxial m.g.
Possible turret layouts
---
Kit UM338 - BT-2 w/machine guns - Model built by Zhenmin Han

Model built by Brett Mahoney
---
Kit UM302 - BT-2 with 37mm gun and mg - Model built by Matej Paluda

Model built by Drew Gleason

Model built by Augusto Versiani

Model built by unknown - 1/35 scale - pictures from ww2.mimerswell.com
---
Kit um303 - Artillery Tank D-38 (Tank BT-2 w/A-43 turret) - Model built by Zhenmin Han
---
BT-2 1935 with solid disc wheels in place of the spoked type of earlier vehicles
---
"BT-3"
(BT-3 is the same BT-2, but with metrical treads)
---
"BT-4"
1932 Soviet BT-4 Light Tank (two turrets gun and m.g.)
The BT-4 was a factory prototype by "Kharkov Factory", with hull features similar to the BT-3 but with twin turrets replacing the single turret and minor changes in the suspension. (3 prototypes were produced (with partially riveted hull)
Summary, there are exist only "4 fake photos / photoshop" of BT-4 in internet - (info Alexander Kolbasov)
In fact, info for modelers: - (info Alexander Kolbasov)
Main item!!! BT-4 as an official twin turret project was never realized! In the Government Projecting Program the BT-4 as aproject did not exist.
BT-4 started and finished in 1932. In total, 3 tanks were produced at the Kharkov Factory, but as an experimental sample. It was initiative of the Factory. Government did not give official design order for it. Main difference with BT-2 is welded body. So, 3 proto types were produced, then the BT-4 production was halted, so their further life story remains unknown. It is possible that they were used for testing purposes, but from 1932 onwards, that is all available information. No information about their using in WW2 is available and known.
Fake photo 1
Fake photo 2
Fake photo 3
Fake photo 4
---
"BT-5 Variants"
As mentioned before, in 1932, the UMM instructed the design teams in Leningrad (T-26) and Kharkov (BT) to adapt the new 45mm Model 132 tank gun for their tanks, using a common turret. The KhPZ team brought out the BT-5 model 1933 as a result of these instructions. The main change on the BT-5 was the larger cylindrical turret and the new gun, but the wheels were also changed to a simpler convex style. The new turret dispensed with the ball-mounted machine-gun and used a more practical co-axial machine-gun alongside the main gun instead. Both the BT-5 Model 1933 and the early version of the T-26 Model with the new turret were short lived, because in the meantime, the OKMO team had developed a better designed turret for the 45mm gun. The original turret developed at KhPZ had only a single, awkwardly placed roof hatch and had inadequate stowage. The new turret had twin hatches and a larger bustle. This became the standard production turret on the BT until 1937, and the production of the BT/5 lasted until 1935.

1933 Soviet BT-5 Light Tank
1934 Soviet BT-5 Light Command Tank
1934 Soviet BT-5 Light Tank
1934 Soviet BT-5A Light Artillery Command Tank
1934 Soviet BT-5A Light Artillery tank

Kit um360 - BT-5 with cylindrical turret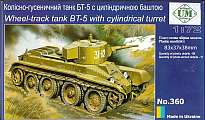 ---
Kit um301 - Russian BT-5 - Model built by Brett Mahoney

Built by unknown - 1/35 scale Zvesda - ww2.mimerswell.com

Built by Chema Cabero - 1/35 scale - missinglynx
---
Kit um313 - RBT-5 with Rockets - Model built by Al Magnus

Model built by Zhenmin Han
---
Kit um406 - BT-5 with Rocket Mounting RS-132
---
"BT-6 was an experimental tank"
Source page 23 from book "BT tanks" of M. Pavlov, I.Pavlov, I.Zheltov, Moscow, Eksprint, 2001

The BT-6 is a BT-5 with fully welded body, cheaper carburized armor against molybdenum.
According to the designing program listed on top, BT-6 was geometrically equal to BT-5, but featured a differently designed driver's hatch. - (Alexander Kolbasov)
---
"BT-7 and later Variants"
About BT-7, BT-7M, BT-8, A20:
Main difference with BT-5 - rounded shapes of body nose and it maximal width (440 mm for BT-7 instead of 210 mm for BT-5). Increased up to 33'51" angle of front armor sheet.
On the radiator (air-water heat exchanger) installed armored covers. Fully welded body.

First serial turret of BT-7 geometrically was the same as BT-5 turret, then in 1937 appeared a conical turret. At the same time, in 1937 modifications were introduced to increase durability of track links.

In autumn 1936 the BT-7 with diesel engine BD-2 appeared, with the assumed name A-8. Tests of diesel engine BD-2 on two experimental samples A-8 were finished in 1939 and the production models were designated as V-2 (well known on T-34).
According to order from the People's Comissariate on the 5th of September 1939 the tank A-8 with engine V-2 was recommended to serial production with name BT-7M. Sometimes the BT-7M is called BT-8, because some incorrect documentation by the factory. However, BT-8 is an incorrect name for the BT-7M.
It was the last representative of serial BT family.

In 1936 on base of BT-7 was experimental designing plan.
Projects were:
- BT-7B-IS - advanced off-road performance, tank with 6 driving wheels instead 2 driving wheels on standard BT.
- BT-9 - increased properties of movability.
Both proto types were to be completed in 1939 but BT-9 wasn't even started. Instead, both projects and Design Order Requirements were combined in one project. This idea was develloped by M.I. Koshkin and it was a step on the way to the T-34.

Next and last tank of BT series was A-20, but it resembles the T-34 even more, which is yet another story!! - (Alexander Kolbasov)
---
Kit um310 - BT-7 M1935 - Model built by Zhenmin Han
---
Kit um311 - BT-7 M1937 with conical turret - model built by Drew Gleason
---
Kit um312 - BT-7A with artillery turret - Model built by Brett Mahoney

Built model by Zhenmin Han

Built model by Juraj Korpa
---
"BT-7M or BT-8"
BT-7M
The BT-8 was a major redesign in 1939. It had a sloping front glacis instead of the previous pointed nose and it had a diesel engine installed. The engine was based on a Hispano-Suiza 12Y aircraft engine.1 The hull MG was placed next to the driver. It saw action at Khalkin-Gol and in Finland.
The BT-8A was a Artillery tank. It had a 76.2 mm 1927/32 tank gun. (Only one test model was built)
---
"Special BT Variants"
---
"BT Experimental Variants"
KBT-7 - Commanders Tank

pictures from shuspanzer.ru

For more info about this variant, visit: (Russian language)

Possible another version - (descripted as Armoured Personals Vehicle based on the BT-7 - but possible fake!)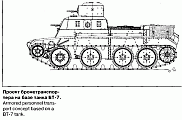 ---
BT-SV

BT-SV II "Turtle"

In fact, BT-SV-2 is the same as the BT-SV but with added observation equipment, mounts (only mounts!!!) for commander panoramic tower on the main turret and periscopic sight for the gun.
This project was top secret, so during testing and tranportation on the top of the BT-SV installed metal covers were added to mask the tank silhouette.

You will find standard turret of BT-SV inside this construction. This is not an APC. This is just a construction for transportation, as described in different sources. Why? Nobody knows. They were available in large quantities in the USSR during the 1930s .

BT-SV "Turtle" (Russian transcription "Cherepaha") was a real project. It was designed as a fire resistant tank and underwent an experiment with fire burning. It's resistance to external fire proved adequate. The BT-SV was projected with 40 mm armor to resist 45 mm gun fire, but in fact was built with 20-25 mm thick armor. Even with this armor the tank was too heavy, it's suspension overloaded and it's dynamics greatly decreased. So, this project was stopped. - (Alexander Kolbasov)
---
Fake BT-APC
BT-BMP APC - (Drawings found on - russiannavy.net)

About different projects of Soviet APC/BTR:

Red Army doctrine of the 1930s did not include armored transport for soldiers! The main means of transportation called only only for simple trucks, horses, "on-tank-armor" and on foot. So there was no a single design project for APCs [or BTRs in Russian] in the USSR until the war. First BTR was designed at the GAZ Factory in 1943-1944.
The first APC in the Red Army was the Land-Leased American M-3, but only became operational in 1944. There were armored cars and armored trucks but not for transportation od troops. - (Alexander Kolbasov)
---
"A20 Last BT version"
---
"From BT to T34"
From left to right; BT7, A20, T34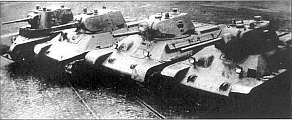 First T34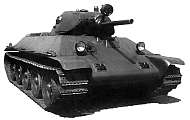 ---
"Finish BT-42 and BT-43"
BT-42 - a captured BT-7, re-armed by and in Finish service
---
Kit um339 - Finnish Tank BT42 - Model built by Zhenmin Han

BT-42

As the Second World War progressed, the Soviets were fielding ever better tanks. The Finnish Army, on the other hand, had to make due with a large number of captured tanks, which were for the most part lightly armored and armed. The Finns decided to redesign the BT-7 model 1937 tank. They constructed a new turret and armed it with British-made 114.3 mm howitzers that had been supplied by the British during the Winter War (Q.F. 4,5 inch howitzer Mark II, also known as 114 Psv.H/18 in Finland). The Finns constructed 18 BT-42s and these were pressed into service in 1943.
The BT-42 saw action for the first time in 1943, at the Svir River, where it was used to take out enemy pillboxes. The design worked reasonably well against soft targets but was completely unsuitable in the anti-tank role. To counter this, the Finns copied a German-designed HEAT round for the gun, and it was initially thought that it could defeat the sloping armour of the T-34, however, this was not the case. [1] The BT-42 quickly became very unpopular among its crews. Its mechanical weaknesses could mainly be attributed to the new turret, which apart from giving the tank a high profile also added significant weight to the vehicle, stressing the suspension and the engine.
The BT-42s were used again during the major Soviet offensive in 1944. They were deployed in the defence of Vyborg but were unable to stop the advancing Soviet forces. The BT-42 would suffer heavily during the fighting. At one point, a Finnish BT-42 managed to hit a Soviet T-34 18 times, failing even to immobilize the enemy vehicle. The Finns lost 8 of the 18 vehicles engaged without having made any significant contribution to the fighting. It should however be noted that the Finnish armored units were still mostly comprised of old T-26s, T-28s, and BT-42 AFVs, and that all of these suffered losses during these days (including 25 of the 87 T-26s and a third of all A-20 artillery tractors). German emergency supplies of PzKpfw IVs, StuG IIIs and captured T-34s made it possible for the Finns to replace its aging tanks for more efficient ones. The BT-42 was retired soon after the Vyborg battles and was replaced in the role by German-made StuG IIIs.
---
BT-43 APC with wooden platform
BT-43
In March 1943, the Finnish armoured division suggested that 20 BT-7s should be redesigned into armoured personnel carriers. The Finnish HQ gave its approval sign on 18 May 1943, but limited the number of vehicles to 14. A prototype was designed by removing the turret of a BT-7 and by constructing a wooden platform on top of the chassis. Additional hatches were also installed to allow easier embarking and disembarking of the vehicle. The BT-43 prototype was tested in November 1943, but series production was never started. The single prototype was scrapped in May 1945.
---
"Russian Scale Models - Alexander Antonov"
The pictures from Russian Scale Models have copyright.
The pictures are placed with permission from the webmaster Alexander Antonov.
"Russian Scale Models" is a Illustrated Online Catalog, of Metall Diecast Models Scale 1/43 and not only shows "Military Models World War II", but also postwar and models in all other catagories, such as airplanes, ambulances, cars, busses, Figures, Fire Fighting, ships etc. For more information visit this site!

"Web-site RussianScaleModels":

---
Email to HenkofHolland:
Note:
This website is an extension of my modeling hobby and serves to inform only. It is NOT possible to order merchandise directly from me.
I do not own a (web-)shop. You will find some reliable vendors in the "links" page.

E-mail to HenkofHolland
Note: To become a working e-mail address, replace in email address (at) with @
---
Valid HTML 4.0 Transitional
---



---