JBModels
---
Airfix Newsletter January 2008
The kits from JB-Models are over to the Hornby group and are re-released under Airfix label
---
Click on the pictures
---



---
Kit 1001 - LWB Landrover - soft top - with GS trailer
---
Kit 1002 - M113 A.C.A.V. Armoured Cavalry Assault Vehicle
---
Kit 1003 - LWB Landrover - hard top - with GS trailer
Model built by Vojislav Jereb
---
Kit 1004 - Saladin mk 2 Armoured Car
---
Kit 1005 - Bedford MK 4 ton GS Body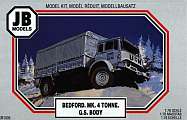 ---
Kit 1006 - M113 Fire Support Version
---
Kit 1007 - Saracan APC MK-I/II/III
---
Kit 1008 - Bedford MK Airfield Refueller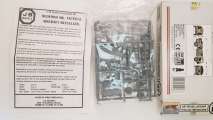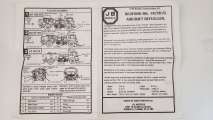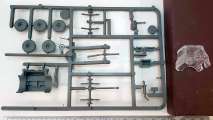 ---
Kit 1009 - Vickers Light Tank MK-VI A/B/C

---
Kit 1010 - Landrover 1 ton FC Truck GS Body
Model built by Vojislav Jereb
---
Kit 1011 - British L118/USA M119 105mm Light Gun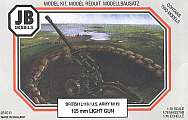 ---
Kit 1012 - Landrover FC Ambulance 1 tons
Sprue layouts Kit 1012 - Landrover FC Ambulance 1 tons

IPMS UK Armour TAS Kit Review of the "Landrover FC Ambulance 1 tons", By Ian Sadler.
The latest kit from J B Models is the 1/72 scale kit of the 1 Tonne Landrover Ambulance .
This kit comes in the usual familiar stout cardboard box with the contents in a re seal able poly bag. The outer covers front and back have the work art and colour illustrations for placing the red crosses on and measurements of the kit in mm. The kit comprises of 3 medium grey sprue and two clear ones and a set of decals. The total number of parts including the extra ones for the doors to be open and an extra lower floor pan are 45 parts, on the decal sheets there are enough for 4 vehicles with red cross markings and one with red crescent markings . A full guide to the recommended colours that can be used are listed along with ref to the Humbrol colour charts. The parts are clean and free of flash, sink marks or ejector pin marks, a blemish free kit. The model can be completed right hand drive or left hand and the rear doors can be open to show the fitted interior or a fully closed up option is in the kit. I have left the best information till last , once more John , has thought about this kit from a modellers point of view , the front cab is again in clear plastic and so is the internal dividing wall , all it needs is careful masking and then painting both inside and out and the windows are done . You also have the lights on the top of the vehicle in clear plastic ready for the correct Tamiya colours to stain them. Please let us have no comments about the wrong style of tyres in the kit, in my local scrap yard there were at one time over 50 of these ambulances and at least 4 different types and styles of tyres were fitted including civilian. Overall, yet an other winner from John who is listening to modellers and providing models of very good quality at a reasonable price. This is a pre build up review but I can see no problems when I build it up. Many thanks to John for supplying the kit for review. Look for press announcements as to availability in your country
Ian Sadler IPMS UK armour TAS leader.
---
News 2008
JBModel is out of production and over to the Hornby Group and re-released under Airfix label
For more information visit the Airfix page:
Airfix Page
---
Email to HenkofHolland:
Note:
This website is an extension of my modeling hobby and serves to inform only. It is NOT possible to order merchandise directly from me.
I do not own a (web-)shop. You will find some reliable vendors in the "links" page.

E-mail to HenkofHolland
Note: To become a valid e-mail address, replace in email address (at) with @
---



---