Russian Light Tanks, Vehicles and others
Source text: Soviet tanks and Combat Vehicles of World War Two, from J. Zaloga and J. Grandsen
---



---
Click on the Pictures
---
Komsomolyets Artillery Transporter (early type)
Stalintractor, Heavy Artillery Transporter
STZ-3 Nati Tractor
NI Odessa Tank





Komsomolyets Light Artillery Tractor
The Komsomolyets artillery transporter was a small, fully armoured tractor which was used to tow the 45mm Anti-Tank gun, and could carry six troops and two-man crew. A DT machine gun was provided for the commander. The troops in the rear were unprotected except for a canvas tilt.
STZ-3 Nati Tractor
The STZ-3 was the first indigenously designed Soviet tractor and was axrensively used by the Army for artillery towing.
Ni-Odessa Tank
The Odessa Tanks are based on the STZ-3 and STZ-5 chassis. There were many different variants. Some were fitted with boiler plate sandwiched with wood or rubber sheeting to provide more protection from small arms. The armament on these tanks varied.They were eventually called NI-Tanks (Na Ispug: Terror Tanks) Fighting against Roumanian infantry, They were surprisingly effective, even if their armour proved to be rather suspect. Other improvised tanks were built on KhTZ-3 tractors.

---
"Na Ispug / Terror", Tank based on the STZ-3 chassis
STZ-5 Tractor
BA6 Model 1935 Heavy Armoured Car
BA6m Heavy Armoured Car
BA10 Heavy Armoured Car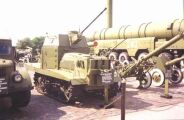 STZ-5 Tractor
The STZ-5 was a militarized vrsion of the STZ-3 with the cab moved over the engine so that the rear bed could be fitted for carrying supplies or artllery crews.

---
SU-57 White Halftrack, Lend lease vehicle
Scout Car White, Lend lease vehicle
T37 Model 1934 Small Amphibious Tank
T40A Model 1940 Light Amphibious Tank
T60 Model 1942 Light Tank




SU-57 White Halftrack (US T-48)
The most numerous version of the US halftrack supplied to the USSR was the T-48, know in the Red Army as the SU-57. It was used by tank destroyer brigades.
M3A1 Scoutcar
The M3A1 scoutcar was used by the Red Army for scouting and liaison duties.
T-37 Amphibious Light Tank
Another "acquired" design, based upon the Vickers Carden Loyd amphibious tank purchased from Britian in 1928-29. It was copied and came in service as the T37 and T37A. Both were armed with one machine gun in a revolving turret on the right.
T-40 Light Tank
The T-40 looked very like the T-30 and mounted either a 12.7mm D ShK or 20mm ShVaK gun, plus a co-axial machine gun. It had buoyancy tanks built in to the hull and was driven in the water by a single, four-bladed propeller.
T-60 Light Tank
When it was found that both the T-40 and T-50 were unsatisfactory, it was decided to develop a new light tank, based on the T-40 chassis but not make it amphibious. It had improved protection and entered full-scale production in 1941. Designed with the need to operate in snow specifically in mind, some 6000 were produced before it was replaced by the T-70.

---
T-70 Light Tank - Model Built by Gianluca Trivero - 1/72
---
SU76I, captured German Pz. III
"Boris" Russian Tankhunter with 6kg explosives
"Boris" scale 1/76 - Master by Henry Klom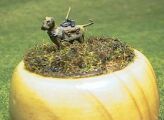 SU-76i / Captured German Pz. III
In 1943 it was joined in small numbers by the SU-76i, an assault gun armed with the 76.2mm Zis-5 gun based on captured Pz. Kpfw III and StuG III chassis. Large numbers of these had fallen into Soviet hands, particularly at Stalingrad and Zavod Nr.38 converted about 1200 of them by adding a new, fully-armoured superstructure and gun. The SU-76i first went into action in the autumn of 1943

---
Russian Artillery Tractors
Artillery tractor JA-12 WWII - Early
Model built by HoH - 1/72 resin AER

---
Artillery tractor JA-12 WWII - Late
Model built by HoH - 1/72 resin AER

---
Kit AR7205 Artillery Tractor KOMINTERN
Model built by HoH - 1/72 resin AER

---
Voroshilovets heavy tractor
Model built by HoH - 1/72 resin AER

---
Voroshilovets heavy tractor with 85-mm air-defense gun mod. 1939
Model built by HoH - 1/72 resin AER

---
AT-45 Heavy Artillery Tractor

Model built by HoH - 1/72 resin AER
---
Email to HenkofHolland:
Note:
This website is an extension of my modeling hobby and serves to inform only. It is NOT possible to order merchandise directly from me.
I do not own a (web-)shop. You will find some reliable vendors in the "links" page.

E-mail to HenkofHolland
Note: To become a valid e-mail address, replace in email address (at) with @
---



---