AHM - CROWN - Ikko Mokei
Scale 1/87 (HO)

"Out of Production"
---
---
Click on the Pictures
---
History AHM & CROWN Minitanks - part 1
Somewhere around 1975 AHM (Associated Hobby Manufacturors) released 8 and maybe even 10 HO size plastic kits in conjunction with CROWN. They were packed in two part boxes. The quality and also size of the kits varried, some are even closer to 1/76, like the M 40 155mm SP. The mouldings from the Japanese company CROWN are very toy-like. Some kits have accessories such as an AT gun or tank barricades.
As with many early sixties and seventies Japanese kits, the box art is excellent. On the sides of the boxes the others models from the same range are shown. However, the 155mm howitzer with the Dodge Beep (K-508) is shown with a different box art. Also two kits with soldier are shown: German infantry and German Afrika Korps, respectively as series 13 and 15. I have never seen these...

In good Japanese tradition the kits are confusingly numbered in "series" numbers and "K" numbers of which only the latter makes sense. The attached pictures will show the series K-501 to K-508. The kits are not found in any AHM catalogue known to me.

Another AHM HO story is about the release by AHM of the famous ROCO HO 1/87 series. AHM started very early, perhaps even before 1960, with the realease of the ROCO HO trains, soon followed by the HO Minitanks. The history of the ROCO 1/87 Minitanks series deserves its own page, to be added in a later update...

The AHM release of the HO Minitanks ran parallel in time with the original ROCO releases and they appear in many AHM catalogs. I do not know until when AHM released the ROCO Minitanks. Catalogs run well into the seventies. Alfred van Netburg , August 2010
---
History AHM & CROWN Minitanks - part 2
In my research I found that AHM released 8 HO size plastic kits in conjunction with two Japanese companies, namely Crown and Ikko.

Series number 3, 6, 9 and 12 were originally released by Crown in Japan, and series number 1, 4, 7 and 10 were released by Ikko ("Ikko Mokei" or "IM"). These original issues were released in 1974. Series number 2, 5, 8 and 11 were planned to be released by another company, but never released. The name of third company is not clear, but it may be Mitsuwa since Ikko, Mitsuwa and Crown (IMC) jointly released 1/144 scale aircraft models at the time. Series number 13 and 15 were not released either.

These models are similar to Roco Minitanks in shape and size, but tracks are separated from road wheels and molded in belt shape. Talking about size, the model of M40 is about the same size as a 1/76 scale Sherman, but remember that the hull of M40 was expanded both in length and width from Sherman. The M40 model is actually around 1/87 scale, though the Sherman model seems to be smaller than the Roco 1/87 scale models.

K-numbers were given by AHM. Original issues had different kit numbers. Packages of original issues are almost identical to AHM issues except for the company logo and kit number.

AHM K-numbers, series numbers, name of original manufacturer and original kit numbers are as follows.
Kit name
AHM K-nummers
Series numbers
Name of original manufacturer
Original kitnumber
M4 Sherman with Jeep
K-501
3
Crown
500
Pz.IV Ausf. F2 with Kubelwagon
K-502
6
Crown
501
Stug III with Barricade
K-503
9
Crown
502
M40 155mm SPG
K-504
12
Crown
503
Panther Ausf. A with 37mm gun
K-505
1
Ikko
801
Tiger II
K-506
4
Ikko
804
T34/85
K-507
7
Ikko
807
155mm howitzer with Dodge
K-508
10
Ikko
810
Best regards,
Otsuka Katsumi
---
AHM and CROWN Minitanks have different kitnumbers

Left the Crown kits and right the Ikko kits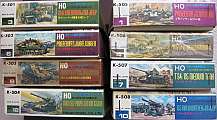 ---
Kit 501 - M4 Sherman with Willy Jeep
---
Kit 502 - Pz. IV Ausf.F with Kubelwagen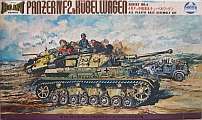 ---
Kit 503 - Stug III with barricade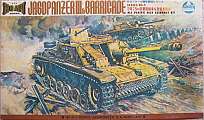 ---
Kit 504 - 155m M4 SPG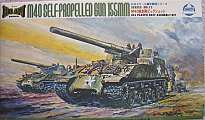 ---
Kit 505 - Panther Ausf. A with 37mm gun
---
Kit 506 - Tiger II
---
Kit 507 - T34-85
---
Kit 508 - 155mm howitzer with Willy Jeep
---
Crown
Released boxes
---
Kit 500 - Sherman M4 with Willy Jeep
---
Kit 501 - Panzer IV Ausf. F with Kubelwagen
---
Kit 502 - Stug III with barricade
---
Kit 503 - M40 155mm SPG
---
Kit 504 - German Afrika Korps - (copy Airfix)
---
"IKKO Mokei"
Ikko is one of the original manufacturer of AHM HO scale models. ("IM" are the initials of "Ikko Mokei" or "Ikko Model".)

The list of models is as follows.

Kit 801 - Panther
Kit 804 - King Tiger
Kit 807 - T34/85
Kit 810 - Willy Jeep
Kit 813 - German infantry

Kit 807 T34/85

---
"IKKO Mokei"
Ikko Mokei was one of the early Japanese plastic model manufacturer, starting in 1962 and continued until the late 1970s. Ikko Mokei released some rubber-powered miniscale tank models between 1963 and 1965). These models were not accurate and in only approximate H0-scale.

No.1 M4 Sherman
No.2 M48 Patton
No.3 Comet
---- JS3 Stalin
---- Panther
---- Japanese Type 61
---- Long Tom (1/80)
---- Crusader (1/80)
---- Centurion (1/80)

Release

M4
M61
---
Ikko Mokei also released two "clear tank" models in 1964. These kits were molded in transparent plastic with interior parts.

Clear M-4 (1/60)
Clear M-48 (1/85)

Kit M4 Sherman
---
Kit M48
---
Email to HenkofHolland:
Note:
This website is an extension of my modeling hobby and serves to inform only. It is NOT possible to order merchandise directly from me.
I do not own a (web-)shop. You will find some reliable vendors in the "links" page.

E-mail to HenkofHolland
Note: To become a valid e-mail address, replace in email address (at) with @
---
Valid HTML 4.0 Transitional
---
---