1/72 Mars Figures
Mars is a figure producer from (Russia?), most historical fugures, but has released also some military figures from WW-II
---
Click on the Pictures
---



---
Figure scale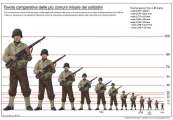 ---
Kit 72001 - Russian Paratroopers "Spetznaz" - (copy from Esci kit 240 figures)
---
Kit 72002 - Muiahideen (Afghaan War) - (copy from Esci kit 238 figures)
---
Kit 72003 - Modern U.S. Soldiers - (copy from Esci kit 239 figures)
---
Kit 72008 - Russian Heavy Weapon Team - (conversion from Esci kit 203 figures)
---
Kit 72012 - Soviet Assault Group WWII - (conversion from Esci kit 203 figures)

Built and painted figures by Marcin Mizielinski
---
Kit 72013 - German Autocrew in Action - (mix from Airfix and Matchbox figures)
---
Kit 72017 - US Infantry with 37mm gun WWII - (mix from Matchbox figures)
---
Kit 72022 - Japanese Infantry & 75mm Type 41 Mountain Gun
---
Kit 72106 - German Elite Division (Normandy 44-45)(WWII)
---
Kit 72107 - Imperial japanese infantry (WWII)
---
Kit 72108 - German Panzergrenadiers (WWII)
---
Kit 72109 - Imperial Japanese Paratroopers (WWII)
---
Kit 72110 - Luftwaffe Field Division Infantry (WWII)
---
Kit 72111 - German Elite Infantry in Winter Uniforms (WWII)
---
Kit 72112 - World War II German Naval Troops (WWII)
---
Kit 72113 - German service Don Cossacks
---
Kit 72114 - Finnish Army in winter dress 1942-1944
---
Kit 72115 - Russian Infantry WWII
---
Kit 72116 - Russian Assault Troops WWII
---
Kit 72117 - German Volkssturm defenders WWII
---
Kit 72118 - German night hunters (WWII)
---
Kit 72119 - German Paratroopers in tropical uniform (WWII)
---
Kit 72120 - U.S. ParaTroopers (WWII)
---
Kit 72121 - German Paratroopers (winteruniform) (WWII)
---
Kit 72122 - German Panzer Crew in combat (WWII)
---
Kit 72123 - German Paratroopers (Tropical Uniform) with 10.5cm LG42&8cm s.G.W.34
---
Kit 72124 - WWII U.S. Infantry (Winter Uniform)
---
Kit 72125 - WW2 US Machine Gunners (D.Day)
---
Kit 72126 - US Rangers (D-Day)
---
Kit 72127 - British Common Wealth Troops WWII
---
Kit 72128 - German Panzerjagers WWII
---
Kit 72129 - Soviet Border Guards WWII
---
Kit 72130 - German Volkssturm Defenders WWII
---
Kit 72138 - Ukrainian Defenders
---
For more information visit:
Mars Figures Website

Plasticsoldierreview Website
---
Email to HenkofHolland:
Note:
This website is an extension of my modeling hobby and serves to inform only. It is NOT possible to order merchandise directly from me.
I do not own a (web-)shop. You will find some reliable vendors in the "links" page.

E-mail to HenkofHolland
Note: To become a valid e-mail address, replace in email address (at) with @
---



---