1/72 Metch - Sword
Metch Sword is a producer from Russia, they has released some military figures and vehicles from WW-II period.
The kits are a resin or plastic mix from several manufacturers. May be it are all copies from other products. It seems the quality is poor to very poor!!
Some pictures are taken with permission from plasticsoldierreview.com.

Metch-Sword is collaborated with the labels "B.U.M. and Pobeda/Victory". All the 3 labels have the same less quality!!
---
Click on the Pictures
---



---
Kit 172100 - GI Patrol - (This set contains a kit made by Academy plus figures made in China, originally based on Matchbox figures, plus tents and flags.)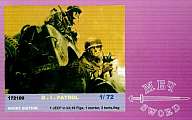 ---
Kit 172101 - TODT Operation - (This set contains Dapol figures, accessories and posters.)

---
Kit 172102 - Volkssturm Posen 1945 - This set contains Odemars figures, vacuform base and posters.)

---
Kit 172103 - Kettenkrad - (This set contains a kit made by Academy plus Odemars figures and posters.)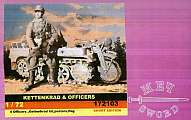 ---
Kit 172104 - Repair Truck - (This set contains a kit made by SDV plus metal figures.)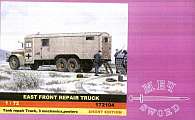 ---
Kit 172106 - SD KFZ 138/1 Grille - (This set contains a kit made by SDV plus 3 crew and posters.)

---
Kit 172108 - SS Handchar Division - (This set contains Odemars figures, a Pak40 with crew and posters.)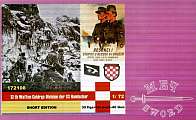 ---
Kit 172109 - WWI Kaiser Army Tannenberg - (This set contains figures from HäT and LW plus gun and flags from BUM.)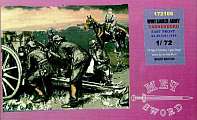 ---
Kit 172113 - Long Range Desert Patrol - (This contains vehicle kits and some prone resin figures in the MIR style)

---
Kit 172114 - Kiev 1943 - (This set contains a half-track, figures from Caesar's German Infantry in Winter Gear, bunker and paper accessories)

---
Kit 172116 - WW2 German Stug III F - (This contains 1 tank, plastic accessories and 5 crew figures.)

---
Kit 172117 - WW2 German SDK Command - (This contains an armoured car, 8 figures, gun and plastic and paper accessories.)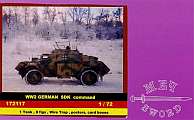 ---
Kit 172130 - Japanese Chiro Type 98 - resin kit with figurs


Comments David Nickels

The set is #172130 and inclues a two-piece resin tank, a bag with half a dozen resin "crew" figures, a crude rubber pill box, some rubber barricades, and a sheet of flags and posters. There is a similar set that may have the same stock number that includes a small cannon and gun crew instead of the resin figures.
The parts come wrapped in newspaper and stuffed into the flat Bum box. There are no instructions, although for the most part there is nothing that needs to be assembled. The tank is crudely cast in two parts; the hull and turret. The tank's gun is a piece of wire cast into the turret. The model looks like a rubber molded copy of someone else's kit with modeling clay being used to fill in around the deep undercuts on the suspension and track detail so a multi part original kit can be turned into a one piece knock off casting. For some reason, four HUGE sand bags were placed on the corners of the vehicle, and two wooden crates were stuck to the engine deck. In my photos, I have removed the sandbags with a saw, scratch built a basic muffler and cover, added a cradle to the gun, and glued a couple plastic strips to the track guards where the sand bags had been cut away. Note the back of the tank is just a big blob of modeling clay with no actual detail. The wheels are vaguely visible on one side and totally absent on the other. No tail skid is included either.
You get some odd, crude, rubber barricade parts with the set. I call these rubber as they are much softer and "rubberier" than the usual polyethylene used in soft plastic figures. I do not know where the crude pill box originated, but it is a copy of a toy I had some 40 years ago as a kid. Perhaps it was an old MPC item originally? Oddly the little sheet of Japanese flags and posters is not bad and is probably the best thing in the set.
The resin figures are rather non descript and could pass as very tall Japanese or perhaps Afrika Korps soldiers. They are not doing anything in particular. The box calls them "crew" but they are not in tanker uniforms. One of the figures heads was broken off. The figures don't look like (exact) copies of existing figures but I suppose they could have been modified from some old Esci or Atlantic poses.
---
Kit 172131 - WW2 Japan Armored Car SUMIDA

---
Kit 172132 - WW2 Japanese Artillery Tractor

---
Kit 172133 - WW2 Japan Chi-He & Artillery

---
Kit 172134 - WW2 Japanese Truck ISUZU

---
Kit 172136 - WW2 Japanese Defences Iwo Jima

---
Kit 172138 - WW2 Japanese Isuzu TX-40

---
Kit 172140 - WW2 Armoured Car Fordson

---
Kit 172141 - WW2 Matilda

---
Kit 172142 - WW2 Crusader

---
Kit 172144 - Lord Lovat's Commandos

---
Kit 172145 - Arnhem, Bridge Too Far
---
Kit 172172 - Japanese Dahiatsu Landing Craf
---
Kit 172201 - Irak Insurgents - (This set contains a resin vehicle, figures from Airfix Civilians and from Caesar's Modern Urban Resisters plus plastic bunker and paper flags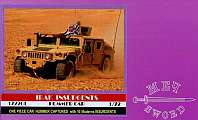 ---
Kit 172303 - M13 40 Italian Tank

---
Kit 172304 - M75 18 Italian Tank

---
For more information visit:

Plasticsoldierreview Website
---
Email to HenkofHolland:
Note:
This website is an extension of my modeling hobby and serves to inform only. It is NOT possible to order merchandise directly from me.
I do not own a (web-)shop. You will find some reliable vendors in the "links" page.

E-mail to HenkofHolland
Note: To become a valid e-mail address, replace in email address (at) with @
---



---