"Musee Des Blindes - Part One"
Armor Museum, Saumur, France
The pictures below gives you an impressium from what you found in the museum, but in the museum there are a lot more vehicles. Really the museum is a visit worth!!
---
Click on the pictures
---



---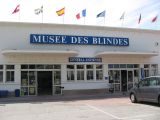 ---
France
WW-1 tank - Saint.Chamond
WW-1 tank - Schneider C15
Carrier with Trailer
Renault AMR 33

---
Renault Char B1
Somua S35
Hotchkiss H39

---
Restaurated Renault Char B1 Bis

---
Marmon-Herrington in French service
ARL 44 - Planned as new type tank after WW-II
AMX 50 120mm gun - Planned as new type tank after WW-II

More information about the AMX-50 on this website (Frenche language).
More information about the ARL-44 on this website (Frenche language).
---
AMX 30B with Mine-exploder

---
Even - ELC 30mm

More information about the Even Elc 30mm on this website (Frenche language).
---
Lorraine
Laffly S15R
Somua MCG5
Laffly S15R
Unic P107

---
Germany
PzKpfw. 38(t) with 7.5cm PaK40/3, Ausf. M, also called Marder III
Lorraine Schlepper with 10.5 cm
Lorraine Schlepper with 7.5 PaK40 L/48

---
PzKw II "Luchs"
PzKw. IV
PzKw. IV "Mobelwagen"
PzKw. V Recovery Panther
PzKw. VI Tiger I

---
PzKw. VI Tiger II
Schwimwagen
Amphibian US and German "Trippel"
Hanomag SS100 Tractor

---
SdKfz. 303 Leichte Ladungstrager Ausf. B "Goliath

More information about the Goliath on this website (Polish Language).
---
88mm Flak 36
flak 38 4x20mm
Flak 30 1x20mm

---
105mm LeFH
US Howitzer M1
Schwere Panzer Buchse 41
Pak 38

---
Nebelwerfer 41 150mm
Nebelwerfer 42 210cm
Hotchkiss DCA Mle 38 25mm

---
British
Vickers Light Tank MK-VI
A12 Matilda
Infantry Tank Valentine
Crusader III AA version
---
Haevy Tank "Conqueror"

---
Italy
Mountain and airborne howitzer 105/14
Info Daniela Ravenna
This is a very important italian gun, produced from '60 to '80 and widely exported (UK royal artillery among others). It could be towed by truck, disassembled and carried by mules, light cars, even on soldiers shoulders, paradropped, etc, had a great range and could also play antitank role by lowering its carriage.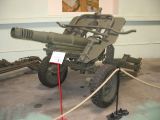 ---
There are two pages from the Musee Des Blindes, click on the button

---

Musee des Blindes, Saumur, Franche.
---
Email to HenkofHolland:
Note:
This website is an extension of my modeling hobby and serves to inform only. It is NOT possible to order merchandise directly from me.
I do not own a (web-)shop. You will find some reliable vendors in the "links" page.

E-mail to HenkofHolland
Note: To become a valid e-mail address, replace in email address (at) with @
---



---