"Musee Des Blindes - Part Two"
Armor Museum, Saumur, France
The pictures below gives you an impressium from what you found in the museum, but in the museum there are a lot more vehicles. Really the museum is a visit worth!!
---
Click on the pictures
---



---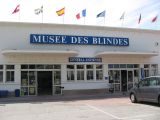 ---
U.S.A.
WW-I GMC Ambulance

---
M3 Lee
Sexton SPG
M10 Achilles

---
Staghound MK-I
GMC Duckw Amphibian
M8 Greyhound
Dodge Command

---
LVT Amphibian "Alligator"
Weasel M29C

---
M47 Patton
M48 Patton
??

---
M60 A1
??

---
M41 Walker Bulldog
4x 12.7mm

---
Israel
Merkava MKI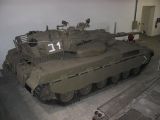 ---
Russia
T-54 in Russian service
T54 in Egyptian service

---
Vehicles and parts in the Museum workshop
---
---
SAV M/43 (Swedish) based on the 38T chassis

More information about the SAV M43 on this website.(German Language)
---
Vehicles used in movies
Chaffee used as German tank in "Battle of Bulge".
"Look a like" shortened wooden St. Chamoint on tractor chassis
US M3 Halftrack changed with wood to an German SdKfz.251 Halftrack
Chaffee changed to "Look a like" Panther

---

---

Musee des Blindes, Saumur, Franche.
---
Email to HenkofHolland:
Note:
This website is an extension of my modeling hobby and serves to inform only. It is NOT possible to order merchandise directly from me.
I do not own a (web-)shop. You will find some reliable vendors in the "links" page.

E-mail to HenkofHolland
Note: To become a valid e-mail address, replace in email address (at) with @
---



---