"Museum of Arms from the Homeland War, Turanj, Croatia"
Museum of the Croatian War of Independence, 1991 - 1995
Posted by Vojislav Jereb
---
Click on the pictures
---
---
Information
---
Armoured Trucks
A special place is reserved for some "home-made" armoured personnel carriers, improvised by the Croats during summer and autumn 1991.
The original improvised armored vehicle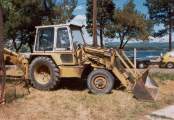 "M-91 Strasko" Actually an armoured tractor, armed with a German-made WW2 vintage MG42 machine gun
strasko_128 - Original war photo of the vehicle of the 128 Brigade HV (Croatian Army) in 1992
strasko_displ1 - vehicle displayed in Army barracks in Zagreb
strasko_displ2 - vehicle displayed at an open Museum in Turanj (near Karlovac) - which is very convinient as it can be visited at any time even more because itis near the main road Karlovac-Plitvice.
strasko_orig2 - The vehicle of the 17th Home Regiment - (is the camo scheme I have used on my model)
strasko_orig3 - Same vehicle from the front
strasko_orig4 - Vehicle before preservation photographed in the Torpedo factora in Rijeka
strasko_orig5 - Another vehicle before preservation photographed in the Torpedo factora in Rijeka
strasko_wfu3 - The vehicle preserved in running condition and used for display on several occasions (aniversaries) taken in Zagreb in 2001

1/72 model built by Vojislav Jereb:
---
"M-91 Sveti Juraj" - (APC - armoured personnel carrier) A truck modified in similar fashion; despite a relatively fresh coat of colour, it is still showing a clear trace of an artillery grenade exploded in the vicinity of the vehicle overturning it. Hence the shrapnell holes on the body.
---
APC "Sokol 1"
---
Tanks, Guns & Airplanes
Russian Amphibious ferry GSP
---
M-18 Hellcat
---
T-55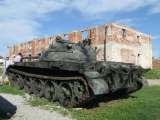 ---
BRDM
---
M4A3 Sherman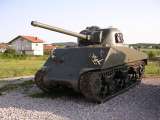 ---
M36B-2
---
Various Guns
---
Various Airplanes
---
For information and other pictures, visit:
"Turanj Warmuseum" on Google Maps

"Turanj Warmuseum" on www.alamy.com

"Turanj Warmuseum" on www.acig.info
---
Email to HenkofHolland:
Note:
This website is an extension of my modeling hobby and serves to inform only. It is NOT possible to order merchandise directly from me.
I do not own a (web-)shop. You will find some reliable vendors in the "links" page.

E-mail to HenkofHolland
Note: To become a working e-mail address, replace in email address (at) with @
---
Valid HTML 4.0 Transitional
---
---