Vojislav JEREB
Presentation of models built by Vojislav Jereb, from Croatia
Vojislav will present us some of the models he has made in the 1/72 scale about improvised armored cars of the 1991 war in Yugoslavia.
---



---
Comments Vojislav:
Here are some photos for one of the improvised armored vehicles of the 1991-1992 war for independece in Croatia I made in 1/72. It's name was 'STRASKO' (the TERRIBLE) and was based on a front-end-loader made by the Torpedo factory at Rijeka, Croatia. Making the model was not very difficult as all of the improvised vehicles of that period (more than 100 types, almost all of them unique) had straight armored plates which are not difficult to model. The only problem are the wheels and lack of accurate data as most of the vehicles were built as real improvisations and without blueprints. The model was all scratch-built except for the front wheels. Even the main wheels were made from scratch and then moulded in resin.
The 'STRASKO' is the only vehicle built im some quantities (about 15 vehicles) and the factory (Torpedo in Rijeka) is near the place where I live.
---
The original vehicle
strasko_1 - The original civilian vehicle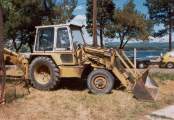 ---
The original improvised armored vehicle
strasko_128 - Original war photo of the vehicle of the 128 Brigade HV (Croatian Army) in 1992
strasko_displ1 - vehicle displayed in Army barracks in Zagreb
strasko_displ2 - vehicle displayed at an open Museum in Turanj (near Karlovac) - which is very convinient as it can be visited at any time even more because itis near the main road Karlovac-Plitvice.
strasko_orig2 - The vehicle of the 17th Home Regiment - (is the camo scheme I have used on my model)
strasko_orig3 - Same vehicle from the front
strasko_orig4 - Vehicle before preservation photographed in the Torpedo factora in Rijeka
strasko_orig5 - Another vehicle before preservation photographed in the Torpedo factora in Rijeka
strasko_wfu3 - The vehicle preserved in running condition and used for display on several occasions (aniversaries) taken in Zagreb in 2001

---
The model of the 'Strasko' ('the Terrible') in 1/72 scale
---
For more information and questions:
E-mail to Vojislav Jereb
---
Email to HenkofHolland:
Note:
This website is an extension of my modeling hobby and serves to inform only. It is NOT possible to order merchandise directly from me.
I do not own a (web-)shop. You will find some reliable vendors in the "links" page.

E-mail to HenkofHolland
Note: To become a valid e-mail address, replace in email address (at) with @
---



---