Model3D Int
NEW PRODUCER from UK
We are a brand new resin model kits producer, desigining and printing 3D resin model kits.
ACCURACY
Our models are printed with a tolerance of 0,5 micron, granting maximum realims and detail
GROWING RANGE
Our offer of new models is fast growing, We sort 2 new models per month
---
Click on the pictures
---
---
Model3D Int 1/72 scale Catalogue
Download your own copy of catalogue: (.pdf file)

Model3D Int. Catalogue July 2021
Most of the models are also available in the 1/48 and/or 1/56 scale
---
Kit IT72001 - FIAT 3000 LIGHT TANK
---
Kit IT72002 - CV 33 I TANKETTE
---
Kit IT72003 - CV 33 FLAME W/ TRAILER
---
Kit IT72004 - CV 33 FLAME
---
Kit IT72005 - AUTOCARRETTA OM58

---
Kit IT72006 - A/T GUN 47/32 ELEFANTINO
---
Kit IT72007 - Fiat Ansaldo M11/39
---
Kit IT72040 - CV-35 Greek Royal Army - "Ekdikithis"

Model built by Axel Wech
---
Kit IT72045 - "Royal Italian Army - Fiat 3000 Flame Thrower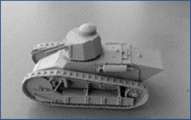 Model built by Axel Wech
---
The manufacturer has released inmiddly several new kits, for information visit:
Model3D-Int website
Model3D-Int on Facebook
---
Email to HenkofHolland:
Note:
This website is an extension of my modeling hobby and serves to inform only. It is NOT possible to order merchandise directly from me.
I do not own a (web-)shop. You will find some reliable vendors in the "links" page.

E-mail to HenkofHolland
Note: To become a working e-mail address, replace in email address (at) with @
---
---