SOWA - Modelworks
A manufacturer from Russia with resin kits and PE parts in the 1/72 scale
It seems me that the kits are relative high priced, who can help me with pictures of parts etc.!!

(Oktober 2013) The manufacturer Sowa ModelWorks was for a period "Out of Business" but are now back in modelling world
---
Click on the Pictures
---



---
Russian Post War AFV's
Mini-Catalogue 2013


---
Kit 7012 - Pantsir S1

Built model by Vladimir Muff
---
Kit 7022 - 6350 Army Truck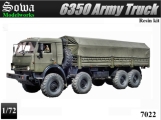 ---
Kit 7032 - SMK Heavy Tank - (October 2012 - Discontinued)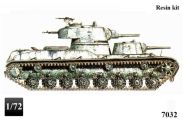 ---
Kit 7042 - 5350 Army Truck
---
Kit 7052 - 9A52-4 SMERCH

Workbench pictures by Vladimir Muff
---
Kits of Sowa ModelWorks are available by:
Germany

"Panzerfux-de", website
Russia:

"Vladimir Rybakov Maksshop", website
"Scalefan.ru", website
Ukraine:

"Armory", website
---
Email to HenkofHolland:
Note:
This website is an extension of my modeling hobby and serves to inform only. It is NOT possible to order merchandise directly from me.
I do not own a (web-)shop. You will find some reliable vendors in the "links" page.

E-mail to HenkofHolland
Note: To become a valid e-mail address, replace in email address (at) with @
---



---