Roman SKIBA
Presentation of diorama's built by Roman Skiba, from Rostov-on-Don / Aksay, Russia
---
Roman is interested in building small dioram's from the WW-II, Vietnam and Afghanistan and Iraq Period
Comments by Roman Skiba.
---



---
Click on the pictures
---
"ANZAC, 1942" - made in 2006
The diorama presented the LRDG and Willy Jeep together with fighters of ANZAC after battle in North Africa region. There are two old sets of MATCHBOX "LRDG" and "ANZAC". The accessories in that diorama are from ACADEMY's "WWII Ground Vehicles" and FUJIMI's "Field Accessories" (MG34 to the left from the ANZACs). I make myself the sand and I spoilt the barrel myself also... The wall is made by myself. I used the putty epoxilin from the Henkel. All painted by REVELL and TAMIYA.
---
"Iraq 2003" - made in 2005
The diorama shows American soldiers on a street in an unknown Iraq's town and shows a section of USMC on the "Bradley" which just arrived in that place soon after the undermining of some car on that street. The soldiers have a certain information from a local agenture about fishy boxes in neighbouring workshops
I had made this diorama by REVELL's "Modern American Infantry", ESCI's "Modern US Soldiers", AIRFIX's "Modern (US) NATO" (the figure from that kit is in depth of "Bradley"), DRAGON'S "M2A2 "Bradley", TAMIYA's "Brick Wall Set" (1/35). The interior of the "Bradley", the pillar is made by myself; the block of the concrete is made by LEGO's detail... Painted by REVELL and TAMIYA.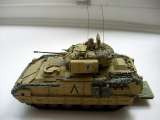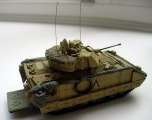 Another version from the Bradley M2A2, now with the commander-hatch opened and the commander is talking with the radio...
---
"Sir, we found Jones only" - made in 2000
This diorama is the first of my works about Vietnam's subject. I had called it "Sir, we found Jones only...". On this diorama I have represented the rescue group of NAVY SEAL (USA) when they had evacuated the last soldier of Long Reconnaisance Patrol which stayed in livings. The place and time of this work are have not strict attachment. It is may be Vietnam during the period from 1968 to 1972 (approximate). I had made this diorama by ESCI's "US Elite Force", ESCI's "3/4 Ton.Truck" and ITALERI's "UH-1C Gunship". Painted by HUMBROL enamel paints.
---
"Prishtina 1999" - made in 2005
This diorama shows British Forces on the Balkans represented a first reaction of the British soldiers about the marsh our Pskov's Airborns on the airport of Prishtina on 1999. The British chaps were in a certain perplexity, it is just!..
This work builded by REVELL's "Modern British Infantry", REVELL's "Warrior MCV". The travelling sign and te travelling protector were maked by me. Painted by REVELL and TAMIYA.
---
"506th Schwere Panzer Abteilung" - made in 2003
This diorama is called as "506th Schwere Panzer Abteilung". There are a number of inaccurated details, our modelists had many criticism for me on "Discussion of Works" on "Diorama.Ru". The inaccurated detailed are:
1. the tank's commander have a SS-uniform (camouflage jacket) while 506th Batallion was Wehrmaht's batallion (but I think - why not? On the war may be all...)
2. in my description on "Diorama.Ru" I wrote that it is 1944, Eastern Front. One my intelligent critic answer to me: "on July of 1944 the 506th Batallion gave the last his mashines on the 507th Batallion", etc.
3. the absence of the zimmerit (I think again that the zimmerit could be but could not be).
This diorama is made by REVEL's "German Engineers", REVELL's "PzKpfw VI "Tiger" I Ausf.E". The trees are made by myself of the whole root of some plant. Painted by HUMBROL, REVELL and TAMIYA.
---
"Lady and Gentlemans" - made in 2001
I have given this diorame the name "Lady and Gentlemans". It is the bit of the aerodrome of RAF and I have represented the Britain's pilot on a meeting with his mates after the flight.
REVELL in his instruction gave this "Spitfire" for 1943 and I have not the obstacles in order to consider differently... However there are some inaccurated details which I had made when I had not knew about some aviatechnical peculiarities.
This diorama maked by AIRFIX's "RAF Personnel", REVELL's "Spitfire MkV" and the barrels and the cans from ACADEMY "Ground Vehicle set".
Painted by HUMBROL, REVELL and GUNZE SANGYO.
---
"Spring, 1942" - made in 02-2007
November 2007
Roman informed me, that he did some changing in the layout of the T-34 in this diorama. He has deleted the big patrol-boilers from the T-34 to made the pictures "time correct". The petrol-boilers were from later date.
---
"Kuwait, 1991" - made in 07-2007
---
"Stug-III" - made in 01-2009
---
"T34 in action" - made in 2010
---
"Etude in olive tones" - made in 2011
---
"Operation "Defense Wall", West bank of Jordan river, Ramallah, 2002" - made in 2012
---
Interested in more work from Roman? Visit next website
Website "diorama.ru"
---
Email to HenkofHolland:
Note:
This website is an extension of my modeling hobby and serves to inform only. It is NOT possible to order merchandise directly from me.
I do not own a (web-)shop. You will find some reliable vendors in the "links" page.

E-mail to HenkofHolland
Note: To become a valid e-mail address, replace in email address (at) with @
---



---